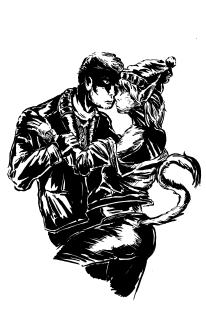 In October 2011, I ran a Kickstarter to fund a new book of erotic SF. In March 2013, the book was picked up by Circlet Press. I'm pleased to note that we're now taking pre-orders, with an expected publication date of Summer 2013. The Stars Change will be available as an e-book, and in limited editions of trade paperback and hardcover.
First Story:
Here's the (tentative) opening story from the book, "The Night Air."
Book Description:
What would you do if the world were about to end? Many people would head straight to bed. A few might lie there with the covers pulled up over their heads, but many of us would choose something more -- distracting.

On a planet far, far away, tensions are rising. Men against men, men against aliens -- the players in this game are complex, and the average citizen doesn't really understand what's going on. They just want to go on with their life: go to work, go home, make love to their wife. Or wives. Or husbands. Or indeterminate gender human and/or alien partners.

War is breaking out and the whole world is going to hell, but people are still having sex. Lots of sex. And they are doing so in a set of interconnected stories, short and hot and sweet and sometimes a little sad. They are here from all over the galaxy, at the University of All Worlds. They're mostly human, or humanoid, although some of the aliens are pretty damn alien. You should see that thing with all the eyes.

The Stars Change is set in the same universe as my story "Jump Space," which you can read for free. You can also read a ton of my short stories on my site, to get a taste of what you'd be supporting. Reader favorites include "Seven Cups of Water," (two girls, a string of hot nights, and a little chili powder). My last book, Bodies in Motion, was also a collection of linked stories, published by HarperCollins and translated into half a dozen languages. It won some awards.

Edition Options:
• $10 - a DRM-free e-book of the finished book (.mobi, .epub, or .pdf format)
• $15 (plus $3.50 shipping) - a signed limited edition (37 / 250 sold) illustrated trade paperback
• $30 (plus $3.50 shipping) - signed limited edition (12 / 100 sold) illustrated hardcover
Order Here:
E-book:
Author Bio:
Mary Anne Mohanraj is author of Bodies in Motion (HarperCollins) and nine other titles. Bodies in Motion was a finalist for the Asian American Book Awards, a USA Today Notable Book, and has been translated into six languages. Previous titles include Aqua Erotica and Wet (two erotica anthologies edited for Random House), Kathryn in the City and The Classics Professor (two erotic choose-your-own-adventure novels, Penguin), and The Best of Strange Horizons. Mohanraj founded the Hugo-nominated magazine, Strange Horizons. She was Guest of Honor at WisCon 2010, received a Breaking Barriers Award from the Chicago Foundation for Women for her work in Asian American arts organizing, and won an Illinois Arts Council Fellowship in Prose. Mohanraj has taught at the Clarion SF/F workshop, and is now Clinical Assistant Professor of fiction and literature and Associate Director of Asian and Asian American Studies at the University of Illinois at Chicago. She serves as Executive Director of both DesiLit (www.desilit.org) and the Speculative Literature Foundation (www.speclit.org). Recent publications include "Talking to Elephants" (Abyss & Apex) and "Jump Space" (Thoughtcrime Experiments). She lives in a creaky old Victorian in Oak Park, just outside Chicago, with her partner, Kevin, two small children, and a sweet dog.
Want More?
A video of me at Tuesday Funk, reading "The Night Air."