The Yosemite Adventure
Hey, you're still here. Don't you know the end of the story when you've heard it? I said 'thank you' and everything.

Okay, okay. Here's one of the soppy poems. And after that you can go look at the waterfall some more. The run-off from El Niño made the waterfalls more spectacular than usual, according to the rangers (one of whom also told me that yes, they've crossed the river too, though it's easier if you cross a little higher than we did. Ah well...), though at any time the waterfalls at Yosemite are well worth seeing. It really is a gorgeous place.
Wind Farm
Blades turn sharply on the cresting hill,
spinning, curving moebius halves that rise
and fall and rise again -- rippling, ripping air,
harvesting the wind. A tourist tells me later:
"the thunder is quite deafening..."

We stayed in our car with windows shut,
lightly buffeted, metal-guarded, silent.

What happens within the blades, in that
shivering moebius space? If a person
hurled herself between the slicing blades
would she disappear, dissolve to a new country,
to a land of silent shouting? Is this love,
this desire to dive into the wind?
Is this love, dissolution or redemption?

Should we stay behind the glass?

*****
Yosemite, Berkeley, Oakland
May '98 - April '99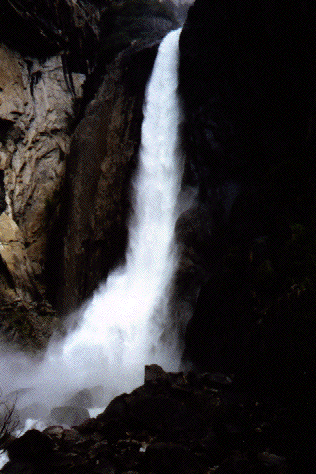 What? Still here? Haven't you suffered enough? Well, perhaps you're one of the truly masochistic. You might even actually enjoy being forced to look at one of my 'artistic' attempts, the product of a very pleasant one hour watercolor class. This is Half-Dome Mountain: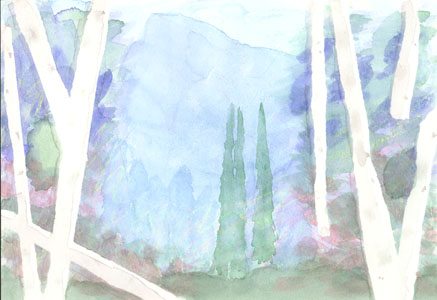 Now, really. That's all. Happily ever after. The end.