An Ongoing, Erratic Diary - December 2001
Phone conversation, Friday night:

Kev: So, you know how we were comparing Expedia and Yahoo prices for airfares? I found another one, Orbitz, that has better prices.
Me: Good to know, though I don't think I'll be buying tickets again for a while...
K: Chicago to Salt Lake round-trip is only $120, even if I leave tomorrow morning.
M: Funny, considering you'll be out here in two weeks.
K: Actually, I don't really have any plans for this weekend...

I went to sleep Friday night, and he showed up Saturday morning. He's staying until Tuesday morning, and it's been lovely having him around. The line between friend and boyfriend is a little blurry at the moment, but I've been pretty happy and calm, so I'm not going to worry about it right now. That's one reason I haven't posted in a few days. The other reasons are:
my AT&T cable modem went down, as warned, and it took me a bit to figure out the Univ. of Utah dial-in system (which also limits me to 7 hrs weekly!!!), and

I did have tons of work to do this weekend, so when I wasn't chatting with Kev or watching movies (Wonder Boys, silly and charming, Nurse Betty, surreal and charming), I was feeling guilty and working hard, first on Amer. lit. (Ruth Hall is actually much better than it seems to be for the first half of the book) and then on theory, and

I got horribly sick Saturday night. Woke up at 3:30 a.m. feeling very queasy, spent the next hour with vomiting and cold sweats and chills and dizziness and assorted other unpleasantnesses in my tiny bathroom. I eventually fell asleep again around 5-ish, to doze fitfully until 9 or so. Felt queasy most of yesterday, and was afraid that I had some kind of flu. But I slept like a log last night, so I think I can conclude that it was probably food poisoning; I blame the half-bowl of clam chowder I had from Cucina Saturday afternoon. Bad Cucina!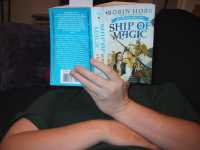 Now it's snowing, and Kev is still fast asleep; I woke up at 4:30 or so to go to the bathroom, and found him still reading on the couch (and reading the book *I* was reading, Robin Hobb's Ship of Magic -- hmph!) -- this is not going to be conducive to his getting back to normal teaching hours. Though I suppose he doesn't actually have any more teaching to do this semester -- just an exam to give on Thursday, so it's not so bad. I still have two more classes to teach this week before the semester's done here.

I've been working steadily this morning, mostly on our lovely new Frank Wu store! Isn't it cool? T-shirts and mugs and tote bags and tank tops, all with Frank's fabulous "Slugball" image -- chick with a big gun! :-) We've put a $3 markup on each item, so for every one you buy, $1.50 goes to Frank, and $1.50 goes to Strange Horizons. There's even a Xmas ornament, only available until the end of the year, so don't miss your chance. :-)

When I have time, I'll add more illustrators; I think I'll ask Wolf Read to work on these next. His Japanese-style pen and ink piece will be a nice contrast to Frank's full-color extravaganza.

This afternoon, I need to do some marking up of student monologues, and then I think I'll work on the POD book. That was all supposed to be done by the end of yesterday; I lost a day to illness. I had hoped to spend today working on my next paper for class, but I think that'll have to wait until Wednesday. So it goes...

4:20. Almost forgot -- today's the last day of the SH Survey! If you've been putting it off, please do stop by and fill it out today -- the info we're collecting will be very valuable to us. Thanks! And while you're there, check out the new interview with the amazing James Morrow (I loved his Only Begotten Daughter), the new story, "Fiddler", by Harry LeBlanc (with an incredibly gorgeous illustration by Shelton Bryant), a new poem, and a new review, and a new art gallery -- yes, it's another terrific week at the best little spec fic magazine in town. :-)

Now I need to go steal my book back from Kevin; I've been steadily working on putting together the SH Best of, but it's repetitive cutting and pasting work, and it's strained my hand and arm, so I think I'd best take a break for a while. Until later, munchkins.
Tuesday, December 4, 2001
Sick again. :-( Woke up two hours before the alarm, and spent those two hours pretty miserable. I'm feeling a little better now, which is good, because I really can't afford to stay home today. But oh, I want to. Kev's gone, and snow is falling heavily, and my hair is still wet, and my stomach is still acting a little funny, and I didn't finish all the marking up I had hoped to...yes, I'm feeling very sorry for myself. I want to stay home with a cup of peppermint tea and a warm blanket and the next Robin Hobb book, and ideally, a Kevin too, dangit. He'll be back in a week, but I'll probably be all better by then.

Still, we'll put on a cheerful face and go out into the cold, cruel world. Hopefully I can keep my head down and finish up my grading during my Amer. lit. class; I hate doing that, but I hate disappointing my students more. At least I'm prepped for the classes I'm taking. I love teaching, but it'll be nice to not teach for a while next semester. Just focusing on one academic class and my writing sounds really good right now.

Finished getting all the SH pieces into a manuscript yesterday; tomorrow I'm hoping to spend some time getting it into clean form. Big pain, but must be done. I also need to draft a paper tomorrow. Not a fun day. Sigh.

I'm sure there's some stuff to look forward to, but I'm having a hard time seeing it right now. I'd probably best stop whinging at you and come back when I'm in a better mood.

3:50 p.m. I am too old for martyrdom. I started feeling really ill again in my first class. Stuck it out 'til the end of that, but then went to the class I taught, told the students I was sick, took 20 min. to do all the random stuff they actually needed me for, and then left them to workshop and went home. Liz promised to get me a copy of her notes from lit. theory.

I came home, ate half a sandwich to get something into my stomach and then decided that was maybe a bad idea. I wandered around the apartment for a while, feeling really cold. Turned up the heat. Put a load of laundry in. Sat down on the floor on a heating vent to try to get warm. Still cold fifteen minutes later. Grabbed my comforter off my bed, lay back down on the heating vent, and crashed hard. Woke up two hours later, feeling much more capable of dealing with the day, though still not actually well.

I need to cook some food to take to our last workshop tonight; thought about skipping that too, but I'd really like to make it if I can. I do feel mostly okay now. Before I stagger into the kitchen, though, I'm going to read me some M'ris, at her new and permanent home. Yay! Though I can't seem to figure out how to link directly to her journal, which makes me feel kind of dense...

4:05 -- Okay, Jed showed me how to link directly to Morphism. If I had half a brain today, I could've figured out it was just in a frameset.

The sun just came out, for the first time in a very snowy day. The sky is a clear blue, and the snow on the houses and trees is shining. I feel better.
Wednesday, December 5, 2001
I should keep better track of what's going on at Fictionwise. They're apparently no longer offering August 2001 (luckily, I have my copy already), and today's the last day to download September 2001. Go grab it while you can!

I can't actually complain about this -- obviously they need to limit the amount of free stuff they give away if they want to also sell stuff. And August had a very good run, with 2722 copies downloaded -- that's a nice chunk of extra readers for the magazine. Pleasing. :-)

Oh, before I forget my tidbit of other news, here's a fun way for the sf/word-geeks among you to spend your time -- working on the SF section of the OED. It sounds just like the process described in The Professor and the Madman....okay, well, severely updated and streamlined. But still. "This page is a pilot effort for the Oxford English Dictionary, in which the words associated with a special field of interest are collected so that knowledgable aficionados can help the OED find useful examples of these words. This, our first project, is science fiction literature." How can you resist that? It's worth visiting even if you don't plan to help, just to see their list of words with their notes on earliest known usage (for example, they're currently crediting LeGuin with 'ansible', in Rocannon's World -- that can't be the earliest, can it? Didn't Clarke use ansibles before that?? This is the sort of question that can drive a man mad...)

Gonna go make tea, and then alternate working on various and sundry projects, including (probably) my Hawthorne paper. More to come, my lovelies.

9:15. Still puttering, but puttering with a schedule now. Around 1ish I need to head into campus to pick up library books, meet with Paul re: conference, meet with the head of the department re: conference, possibly meet with Prof. Robin re: last piece (he missed workshop due to travel difficulties). Then I come home, read about Hawthorne, and hopefully draft at least the intro to my paper this evening. Sounds feasible, yes? And it frees me up to do some other stuff this morning -- both working on a book I'm making (by hand) and the SH POD book I'm editing (by computer). Plus laundry and dishes and such. It was nice having Kev around, but somehow laundry and dishes didn't get done while he was here. Will have to do better when he arrives again next week, since he'll be here for a fair bit longer then.

I spent a little while this morning on glass collage stuff. Someone expressed an interest in purchasing Rice. Yay! I ended up knocking $5 off the price for her because in all the convention travelling, the back of the frame was damaged. I just now used some glass-glue to attach the two pieces of glass together, and attach them both to the inside frame; hopefully that'll help keep the entire assemblage secure. She was also interested in commissioning a collage of One of the ways... -- funnily enough, I had one already done, that I just hadn't gotten around to adding to my pages. I'm not sure if it's a style she'll like -- if not, I'll hang onto it and do her another in a different style. I like it, though. :-) And it's a cool frame, though it does limit you to tabletop use; you can't hang it.

Okay -- call Kinko's and e-mail them my students' chapbook, with an order for 15 copies. I need to come up with a title for it; they rather flailed on that aspect. But the pieces are cool. :-) E-mail Robin and see if he wants to meet. Maybe putter a bit on the book. Check in later...

11:20. I finished one of my Xmas presents! Yay! Photos of it will appear after the holidays...

In other news, my cable modem is back! Oh frabjous day! Calloo, callay! Please imagine me chortling in my joy...

And in the last tidbit of news for a while (because I have just had lunch and must shortly dress and toddle off to campus), Strange Horizons is having a fabulous December Fundraiser. With cool prizes and everything. If you stop by the main site, you'll see a little graphic on the left, with our goal and a tiny red line at the bottom. Help us move the red line up? It looks so sad and pathetic down at the bottom like that...it wants to grow, and grow, and grow...

1:45. Gotta run, but first -- Jed made me take the Art Test -- I tried to resist, I did, truly...
If I were a work of art, I would be Pablo Picasso's Three Musicians.

I am colourful and provoking, always looking to break out of the mould and to pioneer new ways of doing things. I have a jaunty outlook and although I am a bit weird, most people have some idea what I'm about.

Which work of art would you be? The Art Test
I can live with that. Apparently, if I'd been a little more of an idealist and less of a pragmatist (in my own estimation), I'd be Bosch's Garden of Earthly Delights...
Thursday, December 6, 2001
I'm so pleased to see that the donations are...well, not quite 'flowing in' yet, but at least coming in. Yesterday we had three donations, for a total of $75. If that rate continues, then we'll meet our goal easily. Of course, it probably won't continue -- the letters went out yesterday, and plenty of people will forget about the fund drive shortly. But we'll put reminders in next week's newsletter. Really, I'm probably more concerned with getting lots of donations than with getting lots of money -- I'd much rather have 10 people donate $10 each than have one person donate $150. Because once that 501(c)3 finally comes in, grant committees are going to want to see that we have broad-based community support. The subscribers to the newsletter is one indicator of that, but a better indicator is how many outside donors we have, no matter how much or how little they donate. (Of course, the amount helps too -- if more than half of our operating funds come from people not at all affiliated with SH, that looks good too...) Anyway -- stuff to think about. I wish I knew if there were some way to pester the IRS about the 501(c)3 -- they've been sitting on that application for about a year now, I think. *grumblegrumble* I wonder if I should just send a letter...I'm a little afraid to poke my nose in and jinx it.

In other news, I'm almost done making cookies for my students; it's the last day of classes, and the traditional bribe must be proferred as they do course evaluations. :-) Of course, since everyone does it, it's not exactly a bribe...more of an ensuring that they're in a tolerably good mood as they're writing. I'm bringing my cranberry/white chocolate chip cookies and orange juice. Hopefully they'll like 'em. They came out a little funny-looking...I'll be happy when I'm cooking at normal altitudes again. Salt Lake is too high!

Also working through their monologues; I'll be done with those shortly. I'd hoped to have time to read and comment on their memoir pieces, but I only have an hour left before I need to get ready and go, so that seems less likely. Ah well. They'll include them in their final portfolios, so I should be able to comment then for anyone who wants comments...

I'm pretty sleepy; hope I can make it through the day. There's a grad student reading tonight -- the timing is not so hot, I have to say. But must go and show the flag, y'know? No drinking afterwards this time, though -- I'm going to come home and crash. I still have moderately great plans for getting Howard an intro of my paper tomorrow, really I do. The plan is to finish my preparatory reading this afternoon and evening, draft the intro and outline tomorrow, hand them in and meet with him around lunchtime, and then do SH checks and contracts in the afternoon. If there's time, I'll also try to finish reformatting the POD manuscript -- I did half of the basic reformat the other day, and I think finishing it will only take an hour or so. Of course, then I have to figure out how best to make sure all the italics and such are in there. 'Cause they're not now. Maybe Jed can advise?

Anyway, my second mug of tea is steeped, and I think the last batch of cookies are ready to come off the cookie sheet. Happy Thursday, y'all.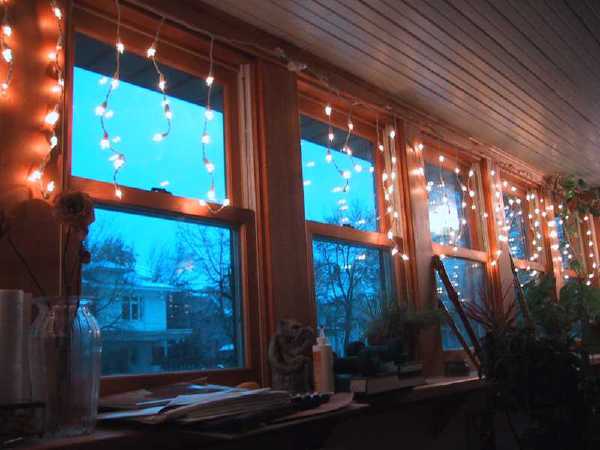 Guess what I did last night? Don't they look purty and shiny and all? Especially against that cool twilight sky -- by now, having edited the picture and put it up and such, it's already much lighter and greyer. That strange blue doesn't last very long...
I didn't get much else done yesterday, despite my grand plans. Went to reading, which was very good -- Jacqueline and Paul read material I was familiar with already, but Jenn's David read some really stunning poetry I hadn't heard -- I can't wait for him to come out with a book. And Jeff did some fun prose poems and myths that just made me grin; he went last, and put me in such a good mood as I tottered home.
Unfortunately, I was just too tired to work when I got back, though I sort of wanted to write. Floated around the apartment for a bit and then collapsed. I'm going to have to rearrange my plans for today too -- Kinko's messed up my students' chapbook order, so I have to go pick them up this morning instead (very disappointing not to have them for the last day of class). I'm going to combine that with some other little errands; getting a new watch battery for my good watch, possibly getting the frames to my glasses straightened, 'cause I slept on them and now they're bent funny, getting the conference poster framed for my dad as a Xmas gift -- that's the sort of things dads like, y'know, to be able to brag about their kids and think that what said kids are doing is much more important and impressive than it really is. :-) Will probably pick up some more paper while I'm at it; I've got plans for various books that I'll need to do pretty soon.
Then this afternoon, either SH stuff or I start grading student portfolios, whichever I'm in the mood for. If I'm good, I finish both of those tomorrow. Sunday, read Hawthorne-related stuff, draft intro, e-mail to professor. Monday, hopefully meet with professor, hand in grades on students. Tuesday, work on paper, Kev arrives in evening. Wednesday, ignore Kevin, finish paper, hand it in. Thursday, start second paper. Friday - Sunday, ignore Kev some more, work on paper. Monday, finish second paper, hand it in, all done, relax!
Yah, it's gonna be one of those weeks.
Aren't you glad you're not in school anymore?
Though to be honest, I'm sort of looking forward to the Hawthorne paper, at least. I'm probably going to be talking about the way Hawthorne uses humor to clue the reader in to the fact that House of Seven Gables doesn't really say what it might at first appear to be saying, if you weren't looking closely. Which is basically an argument focused on narrative structure and technique, which is what fiction writers think about, y'know? Heck, it may even help me in my own writing someday, which is the kind of synergy that I can only hope for in this graduate program. Mostly, it seems like I'm working on stuff in my lit. classes that's pretty far from my own fictional concerns. But that's okay. It's making me smarter. I think.
8:40. Copy edits came back from Melcher; just spent half an hour dealing with those. Only one embarrassing missed word -- mostly it was just issues of clarity, and I told them to leave at least half of the things they queried on. That's sort of comforting; it means I did a semi-decent job when I did my own line edits. Most of the stories didn't need much in the way of line edits, but there were a few (including one of the semi-big names) that I did extensive work on. This makes me feel like the work was worthwhile.
Speaking of...well, not really speaking of much of anything, but I've been meaning to mention this for a while; Sunita, who used to be art editor at SH and who has been a long-time reader, is looking for a job; they're shutting down her building and letting everyone go. So if you know of any physics/engineering-type jobs, you might want to glance at her resume. Thanks!
It's probably late enough now that if I dress and go, the stores will be open. So I'd best run -- but will note (sorry, Jed) that I've been having a very pleasant morning listening to Buffy, the Musical on my computer. I downloaded the MP3's last night... :-)
1:00 p.m. Dangit dangit dangit. So I went and did some errands, though I didn't manage to fix my watch or glasses. Maybe tomorrow. Or this afternoon. Because, you see, I have to go back to that area, because I made a stupid mistake. One of the things I needed at the art store was a do-it-yourself frame, because reader-Meriko wants to buy "One of the Ways..." but requested a wall frame rather than a tabletop. No problem -- in theory. But in practice, I mis-measured -- I thought the piece was 6x9, and it's actualy 6.5x9. So I have the wrong frame. Which means I have to go back to the store, and they're going to laugh at me. I hope you feel properly sorry for me.
I'm actually restless enough, that it's not necessarily such a bad thing. I'm having trouble settling down to any of the work I was supposed to do this afternoon. Maybe I should just declare this an errand day and be done with them. I need more toner and paper for my printer too. I bet there's somewhere downtown where I can buy that...
3:30. Triumph! Silver frame, in five minutes (once I actually got down there). That was much less painful than I expected it to be. I felt like virtue (in my getting off my lazy butt and actually going down) had been rewarded. Of course, I only felt that way for a few minutes, because as I was walking down the street afterwards, two big guys (dressed in such a way that you'd expect them to be going to go do something mechanical involving lots of grease and gears) stopped me...and asked for directions to the new library. I can understand why they asked me -- me in blue jeans, sweatshirt, backpack over my shoulder. I looked like someone who should've known where the library was. But most sadly, I did not. When I admitted that I had no idea, and suggested they ask the guy in the store next door, they looked abashed and said, "Never mind -- we'll just walk 'til we find it..." Poor guys. All they wanted was a library...
Did I mention that Salt Lake is just weird? As I continued down the street and reached the intersection, starting across, I passed a man and a woman, very nicely dressed, who were shouting at a car that had started to turn (against the light) into the crosswalk -- and they were shouting, "Fucking Mormon!" Sometimes you can immerse yourself in academia and forget you're in a deeply-divided city...and sometimes you just can't. Weird. I've heard tons of racial/ethnic slurs on the street from angry drivers and pedestrians, but never before a religious one.
Anyway -- fixed my watch and glasses, and even read a little Hawthorne stuff on the bus. I'm gonna make some more tea and try to work my way through the rest of this essay, though I'm not sure it's really so relevant to what I'm doing. Do I really care whether House has something to do with Hawthorne's take on democracy in America? Maybe...but I kind of doubt it.
Carol's coming by tonight to watch Memento and eat pizza (or Chinese food) with me...Paul/Marcia may join us too. In either case, should be fun. I've been meaning to watch that movie for a while.
Saturday, December 8, 2001
I was taking a bath a week or so ago, looking at the bubbles, sort of wishing I had my camera so I could take cool photos of bubbles. So yesterday afternoon, when I came home all exhausted from my running around, I took a long, hot bath. Lots of satsuma (Japanese orange)-scented bubbles, a copy of Bujold's Civil Campaign and the Herbert book I'm reading for my paper, a few oranges in case I got hungry or thirsty, and my camera. It was fun. I didn't use the camera much, because I was afraid of getting it wet -- just a few photos and then I covered it with a dry washcloth and put it out of range of splashing water. Lots of Bujold. No Herbert. Plenty of bubbles, and my rubber ducks, of course.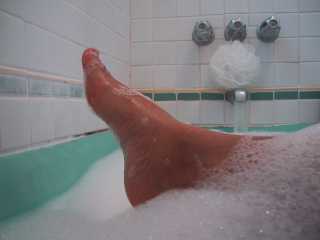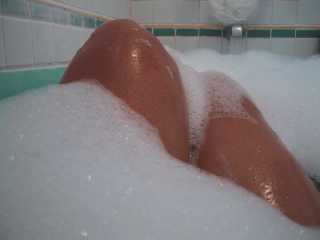 Editing these photos, I think they're sort of sexy. And I wonder why -- I don't normally think of feet, or knees, as especially sexy. Particularly not knees. Part of it's the water, of course. Water makes anything sexier. (Well, maybe not chocolate cake. I don't know that dumping a lot of water over a slice would add to the erotic experience of eating double-fudge raspberry-garnished cake...mmmm...chocolate cake!) Partly it's the bubbles -- the idea, especially with the knees photo, that if you blew away the bubbles, you could see a lot more (probably not true, but the impression is there...)

Mostly, I think it's knowing that the naked knee or foot is connected to the rest of a naked person. That might work even better for a viewer than for me...'cause I know exactly what the rest of the body in the tub looks like, whereas you are free to imagine whatever suits you (well, those of you who haven't seen the rest of the body, at any rate :-). All it needs is to be consistent with what's shown...and what's shown isn't very much.

I'm sure I could connect all this to fiction if I tried, but my brain's not quite up for that yet. Y'all make the connections for me, okay? I'm sure M'ris could write quite a pretty little essay on the subject...

I was pretty exhausted after all the running around, so eating pizza and wings with Carol and watching Memento was just about right. What a fabulous movie! Jed says that it has flaws, despite its brilliance, but I refuse to think about those. This movie was just so very smart. Made my brain hurt a little while I was watching it -- I kept peppering poor Carol with my little theories about what was really going on while she was trying to just watch the movie and undoubtedly figuring out a lot more than I was. I remained attached to one of my pet theories for far too long, and it led me along totally the wrong track. Oh well. My version would have made a good movie too, but I think not as good as the one they made.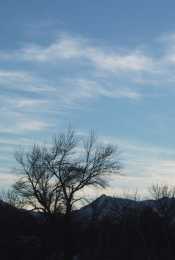 Lots of stuff planned for today; I'll spare you the details. Just picture me quietly working in my apartment, as the sun rises over the mountains. I'll probably check in again later.

11:00. This day is not going as planned. Oh, I did get up at 6:30 and work fairly diligently on Hawthorne stuff until 9:30 or so. But then I napped on my sunny bed for half an hour, and woke up with an idea for M'ris's aliens anthology. I hadn't planned on writing anything for that anthology. I didn't have time to write anything for that anthology. But I was too drowsy to get up yet, so I thought about it some more. And the dialogue started forming in my head. When that happens, I know I'm pretty much doomed -- unless I actively fight the story, it'll get written. And if I actively fight it, I'll be unhappy. And it did seem like it was going to be a pretty short story. So I said to hell with it, got up, reheated my tea, and wrote the story. "Before the Aliens Came" is now 1750 words, and the first draft is done. I've sent it out to the readers' list and while I currently really like it, I have no idea what I'll think of it in an hour, or what anyone else will think of it. Instead of thinking about it, I'm going to exercise a little, shower, and go get toner so I can print things (like SH contracts). Maybe after I've done all that I'll be better able to assess whether this is actually worth submitting to M'ris.

I wrote a story! Eep!

I've been working steadily since 7 a.m. or so...and still, it seems like I've gotten very little done. SH checks and contracts pretty much complete, aside from a few little things that need to be finished off. The bulk of them will go out tomorrow. I always underestimate how long that process will take.

I'm tired now, but no rest. I'm going to go make some tea, and then start grading. I don't really have any sense of how long these portfolios will take. I read pretty fast, and I've read a lot of the material before. So half an hour each? 15 minutes? an hour? Really not sure. I promised them that I'd hand in grades tomorrow, so I have until...oh, about 4 p.m. tomorrow to finish these. Should be plenty of time, though I do have to take a couple of hours out this afternoon for a social conference committee thing, followed by dinner with Sunita's husband David, who is in town for business. But I'm planning on doing some more work after dinner. We'll see.

I finished my Hawthorne critical reading last night; once the grading's done, I'll just have to re-read (or skim) the novel, looking for material connected to my theme. I probably should have done that last night, but I got sad instead. Talked to Kev, then to David for a while. Went to sleep. Slept really badly, with dreams I don't want to remember.

I promise I'll be more exciting once the semester is over, really I will. I guess those photos from yesterday will have to hold you for a while.
Monday, December 10, 2001
Ooh....weird night. Went to sleep around midnight, I think -- woke up at 4. Staggered around, checked e-mail. Queasy stomach. Ended up lying on the couch with my afghan pulled around me and crashed again there; slept soundly until 8. Very strange. Normally I sleep like a baby...not so much this last week. Excited that Kevin's arriving tomorrow? Stressed about finishing grading and writing two papers from scratch in a week? Over-stimulated on tea or replacement thyroid hormone? Still sick? Just too warm? Hard to tell.

But grading is clicking along smoothly; I think I'll actually be finished by 1 or so. That's good because I have to go into campus and run a whole bunch of errands. Drop off grades, get cash, get stamps, mail packages to Australia and elsewhere, rent a piece of equipment (part of Xmas present, so can't discuss), get envelopes, and I'm sure there are more things that I'm forgetting. I'm forgetting them because my NotePad file got corrupted!! This is very very bad. Not only do I keep my todo list for the next year on this (including deadlines for next semester and next summer), but I also kept copies of all my various passwords, for Cafe Press and PayPal and Amazon and Yahoo and Pair and such. I *think* I know them all, but I'm not positive. Jed suggested some things that might let me retrieve some of the information; I'll probably try those tonight or tomorrow. If I can't retrieve it, I'll have to recreate it. Huge pain.

Anyway, back to my grading. The big problem is not giving them all A's, or at least A-'s. I'm not really supposed to do that, and it's not even so much that they deserve it in terms of their actual writing or writing improvement; it just feels weird giving lower grades in a creative writing class. It's funny, because I would have no compunction about rejecting almost all of their work if I were in editing mode. Somehow that engages a different part of my brain from the teacher part, which wants to encourage them all, every single one...

While I'm grading, *you* can amuse yourself with this week's Strange Horizons. I especially encourage you to check out M'ris's terrific article on a new kind of matter. I had no idea! I mean, I was raised with solids, liquids and gases, and I was sort of vaguely aware of the existence of plasma, though not so clear on what it was...and now there's this other stuff?? Very cool. And her article is comprehensible to someone like me who didn't ever in my life take a physics class, and flunked calculus. (I'm honestly not sure how I managed to not take a physics class...it's not like I meant to. It just sort of worked out that way; a little sad, in retrospect).

As well, we have the first part of a two-part Xmas story by Madeleine (who gave us the silly and charming "War of the Lights" last year, as you may recall). If you, like M'ris, hate serials, at least you only have to wait a week to read the whole thing. *And* she assumes you've read the first part, so there's no duplication of information between the two. (I have to admit, I read the first half and bounced straight to our secret galleys to read the second half. It's good -- trust me. :-) Also a new and lovely poem, and a review of Ken Wharton's Divine Intervention. I haven't read the book, but it sounds good, and I've met Ken at conventions -- he's remarkably nice. I mean, lots of people are nice, right? But when I describe Ken to people, the first thing I say is -- "He's just so nice!" Hopefully soon I'll read his book and get to change it to -- "He's just so nice -- *and* he writes great books!" :-) That would be a better reason to buy his book than just 'cause he's nice. Although his niceness might be enough in itself. If I were his publisher, I'd send him on book tour -- I think even on tv, his niceness would come across and sell lots of books.

And while you're enjoying our fabulous magazine, DONATE DONATE DONATE! :-) Current donations at $115 and climbing... (I hope)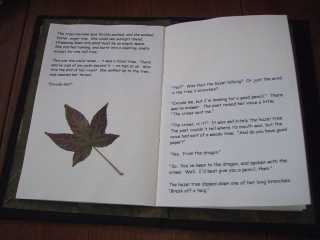 12:15. Almost done. Took a break to do some clean-up art stuff. I finished Lisette's Xmas present, and I'll show it to you, since I don't think she reads this journal very often -- it's a book version of A Poet's Journey (several photos of different pages if you follow this link). I'm reasonably pleased with it, though I did make some measuring errors in the binding process. Hopefully she'll forgive me. I like the overall look of the thing, and it's rather nice to have a version of this story actually in book form. Though it was exceedingly time-consuming, and I'll be very glad when Zak finishes his illustrations so that we can run off a nice little limited-edition version instead. :-) (Not that there's any rush, Zak, since I can't afford to duplicate it anytime soon...)
It's just so pleasant having this stuff as a break from writing. It's pure fun (well, except maybe for cutting book boards and other finicky tasks of that nature), and if I didn't love reading books so, I'd be seriously tempted to take some art classes and really learn something about art. I have a much lower threshold for getting started on an art project than I do for getting started on a story -- I wonder why that is. Maybe because I'm so ignorant about art. :-) There also just isn't that same feeling that I get with stories, that if I do it wrong the first time, I may ruin the story forever. With art pieces, I feel like if I care to expend the energy, I can do them over and over again until I get them right. (Well, the energy and the money for supplies -- it's certainly a lot cheaper being a writer! I've sold a lot of art pieces in the last year, but I'm not sure I've even broken even on supplies yet. Ah well...)
I also re-framed "Beneath the Lemon Tree", and I am so much happier with this version. The rosewood frame that used to be on it was too heavy; it just weighed the whole piece down. This openwork metal frame is a much happier thing for me, and the poem. :-) Don't you agree?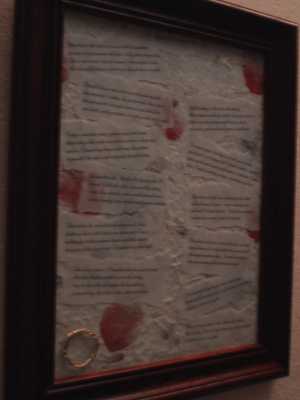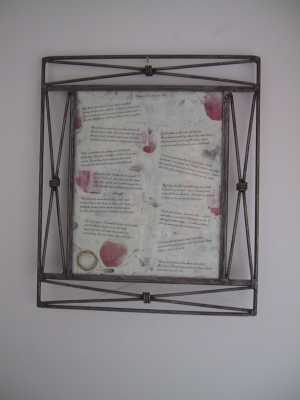 Tuesday, December 11, 2001
Zak, why is your journal asking me for a password? Don't you love us anymore?

In other news...well, not much. I was busy last night working on a present for Kev; crashed fairly early. Slept a lot -- I was sick again, but now I'm feeling somewhat better. Hate being sick. Oh well. I think I forgot, living in California, how I used to just be sick all winter, the whole time I was in Chicago...

Woke up this morning and had absolutely no desire to do any work. None. Whatsoever. I read a short novel by Tanya Huff, washed my hair and dyed it purple, and then read another one, same author, while my hair dried.

Okay, so purple is maybe an exaggeration. The name of the color is Balinese Amethyst, and it claims to be 'true violet'. It's certainly a little more purple than the red color I last had in my hair. But given that my hair is still mostly black, and this just shows up as reddish-purple glints when I'm in sunlight or other bright light, it's probably a bit excessive to claim I've dyed my hair purple. But fun. :-)

Only at 1-ish did I start actually doing things. Cleaned up the bedroom, and plan to at least straighten the rest of the place (except perhaps the scary kitchen) once I finish this entry. Then I'm going to pack up my laptop and Hawthorne and head downtown. I need to buy a Xmas present at the mall, and then I think I'm going to settle in at Borders with my work and a cup of chai. Hopefully I'll actually do some work -- I'm already fighting a fierce temptation to read LeGuin's Tales from Earthsea instead. Maybe just one tale, hmmm?

The Hawthorne paper is due Thursday. Planning to write the bulk of it tomorrow, but it'd be nice to have my intro and outline/notes done today. We'll see how it goes. I have an appointment at 3 p.m. on Thursday, so I can't push the paper to the absolute last minute. This is undoubtedly a good thing...

It snowed again this morning. If I had nothing else to do, I'd be tempted to go for a nice long tromp through the snow. As it is, I'll settle for tromping to the bus stop. :-)
Wednesday, December 12, 2001
Kev arrived last night; so far, so good. We appear to be doing a better job of keeping things comfortably friendly rather than descending into mushiness and/or angst. Let's hope it continues. Today we're going to go work at Borders; he's also got some Xmas shopping to do. I'm going to be good and focus on my paper -- yesterday I got a little done, but mostly I read most of the Tales from Earthsea...very lovely, in that LeGuin-ish sort of way. I'm planning on reading the last one today, and if I do several hours of solid work on my paper, I may reward myself by starting her latest Earthsea novel, The Other Wind. We'll see.

Zak is having server difficulties, but he claims his site will be accessible again shortly. Fingers crossed.

Not much else in the news at the moment, I think. Oh wait -- Xmas presents have started coming in and going out. That's rather lovely. Doug and Beth gave me a scented candle -- and the scent was "Sex on the Beach" -- it really does smell sort of like that drink tastes. Funny. :-) Sherman gave me two extension modules to The Sims because he is an evil evil man. :-) I'm going to hold off on trying them until I've handed in my papers, though, since I really can't afford to lose entire days at the moment. I gave Kev a pair of flannel pyjama bottoms 'cause he was complaining last week about how jeans weren't so comfortable for lounging around watching tv in. Why he's never just bought a pair himself, I don't know. Men are strange. He keeps asking me what I want for Xmas myself, but I am not so strong on good ideas -- and funnily enough, I find that now that he's no longer my "boyfriend", I don't care as much. It used to be that I couldn't help making it into sort of a big deal -- was it a sufficiently romantic, etc. gift? Now...whatever he gets me will be lovely, whether it's a book or CD or whatever. Which is much more the way gifts should be, so I'm very glad about that.

I've also gotten three Xmas cards! I'm going to take mine along to the bookstore with me, and when I get stuck on my paper, I'll write them instead. I'd be happy to send any of my readers cards -- if you'd like one, send me your address, please. If you sent it last year -- don't worry, I still have it.

I love the holidays.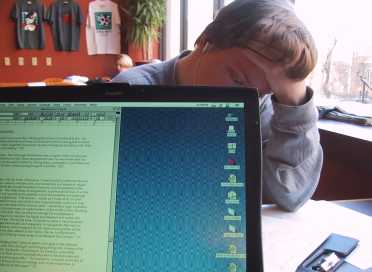 Thursday, December 13, 2001
At the moment, my life is Hawthorne, and I must run back it shortly. But checking in briefly to note that yesterday was Hawthorne, LeGuin (finished Tales of Earthsea, good), Hawthorne, LeGuin again (read The Other Sea, lovely), a little shopping followed by more Hawthorne, and then coming home to make dinner (Thai green curry and a vegetable korma over rice) watch Ed and West Wing, followed by a good chunk more of Hawthorne. And now, I am off to do Hawthorne again -- the paper is progressing well, though I am going to have to cut out half of my thesis to keep the paper from being twice as long as it's allowed to be. I guess I'll just hint at it in the conclusion. Argh.

9:30. Amanda P., I sent you my address but the mail bounced. Drop me a note when your mailbox isn't so full! :-)

Mmm...curry for breakfast. I was feeling a little wobbly and paper-woozy, but curry definitely helped. Took a little break to eat and read some of Robin Hobb's Mad Ship (not brilliant, but solid and well-imagined). Would like to just curl up and keep reading, but I should go write some more.

1:00. Finished my draft! Now I have an hour to polish it up...mostly making the intro match what I actually wrote about. :-)

But I'm really here to pass along some terrific news: Chris Barzak's story, Plenty, which we published in SH, has been selected by Terri Windling for Year's Best Fantasy and Horror. Woohoo! It's our first piece to make it into this prestigious series -- I'm bouncing up and down in delight (I'm sure Chris is too. :-)
Friday, December 14, 2001
Paper finished in good order yesterday. Huzzah! Now I don't think about it until grades come in at least...

I wasn't feeling so good yesterday afternoon; kinda lazed about in front of the tv, desultorily reading Mad Ship in the intervals. But I picked myself up eventually, dressed up, and went out to the department Xmas party. Good fun at Oasis Cafe. Stayed there 'til 11 or so -- nice. Came home and Kev was watching Almost Famous on tv, so I ended up staying up another hour and watching it with him. Cute movie.

Slept pretty much like a log. Have had a slow morning, drinking tea out of my new Frank Wu mug, which looks amazing! It arrived yesterday and it's just gorgeous. I'm sort of stunned by how sharp and professional it looks. I want another! I need to figure out which artist to do next. The nicest thing about working with Frank was how quick and professional he was...

I'm still bouncing up and down about Chris's story making it into YBFH. It's a charming story, one I'm proud to have published, and it just feels like such an accomplishment. I'll probably be buzzing about that for days at least...

And the fund drive is continuing steadily, which is also lovely. We're now up to 15 donors and $282 -- not bad for nine days. I do wish I'd been prompter and started it December 1st, as originally planned. Oh well...if wishes were horses, etc. I'm not sure if we'll make it to a thousand, but if we break $500, and say, 25 new donors, I'll consider the drive a solid success. Fingers crossed.

I'm gonna go have some curry and read Mad Ship some more; today's a lazy day of doing bits and bobs of stuff (groceries, Xmas presents and cards, etc.) -- a little break before I dive into the last big paper. Mellow, that's the plan. I can do mellow. Sure I can.
Saturday, December 15, 2001
Stayed up late last night, talking to Kevin. It had been a sort of strange day; I was just exhausted, for no good reason, and spent the day alternately watching tv and reading. I did get some things (lingering checks and such) in the mail, but mostly, I goofed off and rested. In evening, I got kind of sad. We talked through it, though. Most days, I can mostly accept how things needs to be with us, but every once in a while, denial just rises up and overwhelms me. I get mad at the universe for being unfair. Aren't you supposed to get over that kind of anger when you're a kid?

Anyway, slept late today and woke up still a little sad; consoled myself with cold pizza and Suzy Charnas's The Bronze King, not-a-Christmas-present, sent by M'ris. Thanks, M'ris! It was lovely -- vintage Charnas, and a really solid kids' fantasy. Reminded me a little of Duane's So You Want to Be a Wizard, though that may just be because in both cases, New York was in danger of being swallowed up (though in different ways).

Kev's still asleep; I should putter about and finish cleaning up various things. Around lunchtime I think we're going to head downtown, either to Borders or the new B&N (they closed the convenient one and opened one farther away, sigh). I have to start working on my next paper -- today's for rereading Bhabha and Spivak and taking notes, trying to figure out what I want to argue. Tomorrow is theoretically for drafting, and Monday for revising and handing in. We'll see.

I've unpacked all my Christmas ornaments, but I still haven't quite figured out what to do with them. I was thinking stringing them up on ribbons, but I don't actually have much ribbon. I do have a lot of yarn, and a lot of embroidery thread. I think the yarn might work -- it's even in wine and white, Xmas colors. But I should probably wait until he wakes up, since I doubt he'd appreciate the noise of me hammering nails into the walls. (It's a good thing I have a tolerant landlord, 'cause I've put a lot of nails into the walls over the last few years...)
Sunday, December 16, 2001
Work progresses on my paper -- very very slowly. It's interrupted by various things, including grocery shopping and finishing Mad Ship. Hobb really does a good job of incorporating surprises into the text, more so than anyone else I've read recently. You think you know what's happening, what's going on, and then something else just happens -- out of nowhere, but also quite reasonable a thing to happen, and it changes everything. Impressive how she manages that.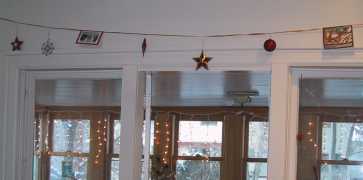 I've also started putting up Xmas ornaments. Started and finished, in fact. I decided not to do a tree this year -- just too much trouble, and it takes up a lot of space in my little apartment. But I love my ornaments, and I couldn't bear to leave them in a box. So while I was at the grocery store, I picked up some ribbon, and used that to string up the ornaments around the place. I really like the way they ended up; red and gold in the living room, blue and silver in the dining room, green and gold in the little hall leading to the bedroom. Most pleasing.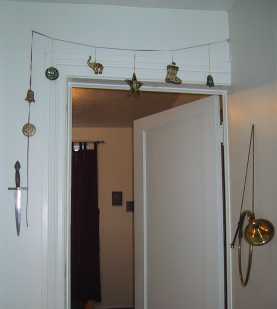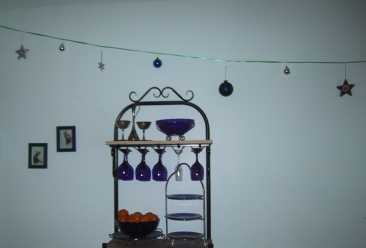 Anyway, back to the slave mines. On the plus side, I've also paid bills and cleared away all sorts of little items that had been hanging around on my desk. It's amazing how writing papers gets so much else accomplished in the house...
Monday, December 17, 2001
Six pages done; a few more drafted and only needing polish. Some work on intro and conclusion; I have about two hours left, but I think that'll be plenty of time. I'm revisiting issues of hybridity and the ability to speak for the subaltern; I'd go into it in more detail, but no time, no time! as the white rabbit said to Alice...

3:00. 10 pages done, a conclusion and intro to go. Why do I push things to the wire? Why, why, why, she asked rhetorically...

David tells me that I misquoted above. If I did, it was a paraphrase. So there.

Rather than reading my silliness, why don't you go read some Strange Horizons instead? The conclusion to Madeleine's story, brief and lovely poem, a review and an article -- and be sure to check out what may be the start of a raging argument in our Feedback section about the article...what do *you* think about sex roles in Heinlein? Does Friday get a raw deal? I do love me some controversy....

4:00. Finished. I can't quite take it in. I need to throw on some clothes and go hand it in and I suspect that only once I get home will I actually understand that I'm finished for this semester, and even then perhaps not. And part of me wants to collapse and just do nothing, or play the Sims (which I did for many hours yesterday and two more this morning, I suspect a reaction to having too many deadlines for too long), but already today I've posted to a mailing list offering to organize two events because I think they ought to be done, and someone should do them, and if not me, then perhaps no one...and that's the way it goes, no? I was being interviewed once and they asked me what advice I would give to young writers and I ended up telling them to volunteer for things, to not be afraid to give yourself away, because if you keep offering to help, wonderful things will happen to you. Sometimes helping means giving up your stories or poems, sometimes giving other words, sometimes giving your time. This journal was started for you, but mostly it's turned into something for me, that gives back to me far more than I give out to you. Strange how that works. So although I have to be a little careful not to give too much away, not to say 'yes' to more requests than I can possibly manage, in the end, I am happiest when I say 'yes' as much as I possibly can.

In 1993 and 1994, I spent a lot of time on a newsgroup, rec.arts.poems, giving away my poems for fun and pleasure and friendship. Ralph Cherubini, one of the fine poets who spent time on that group, used to write poems to me. In them, he often made me into someone finer than I thought I really was. I kept them, to remind me of the person I could try to be.

Your resistance to being perceived as a strong effective poet
perhaps some residue
from a time
perhaps a lifetime
when you felt
hampered
wounded
weakened
not what something within you said you should be
it is not up to you
the truthfulness of your heart
all you can do is foster it
impede it.
You still have a choice.
You can say "no" some days
you can say "yes" some days
I have known you to say
"yes"
beautifully...
Wednesday, December 19, 2001
It took me three minutes to figure out that today is Wednesday. My brain's not working so well, and now that the semester is over, I'm having trouble keeping track of the days. I suppose that's okay, though. I spent all of yesterday playing The Sims -- very addictive. Must get little person to next promotion. Need to build second story on house. Perhaps redecorating would make little person happier? Need a dishwasher! Need a more comfortable bed! Need a hot tub! Okay, maybe I don't need a hot tub, but it'd make it a lot easier to flirt with the girl next door...

Addictive. When I went to bed last night I told Kevin to take the CD out of my computer and hide it from me so I could actually get some stuff done today. He appears to have done so.

(Want to play, want to play, want to play -- could go wake him up and beat the location out of him...)

Ahem.

I don't have so much that I need to do, luckily. I need to cut a whole bunch of book boards, and then binding and cover paper for them, and glue the casings together. Ideally, I should make eight casings this afternoon and set them to drying. Then I should finish writing the story that's going in the casings. I'm a little concerned about my ability to get Quark to lay it out the way I want it to -- ideally, it'll print out on both sides of a sheet of paper, and I'll then fold it into quarters, and it'll be in order. I'll have to work out in advance how many pages it'll be and exactly what the layout will be and I can do that, but I'm not sure I can make Quark divide a page into quarters and put some blocks of text upside down. I think so, but not positive. That's tomorrow's problem, though.

Also today -- do dishes, clean up generally, decide whether I want to have people over for dinner before I leave town. Jenn and David and Paul and Marcia all unavailable, and others are out of town too -- I'm not sure how many people are *in* town. Still, probably worth a shot. I think I'll aim for Friday, call around, see if people are interested.

Oh -- here's the main thing I meant to mention. There was vast confusion between me and the post office. I don't even think I understand now what happened. But the upshot is that they've given away my P.O. Box, and I had to get a new one. If you sent mail to my old one, it'll either a) be returned to you, or b) be automatically forwarded to my new one. They weren't sure which. I'm so sorry about this -- if it does get returned to you, please resend? I would like to see whatever it is you're trying to send me... Here's the new address:

Mary Anne Mohanraj
P.O. Box 112056
Salt Lake City, UT 84147

I hate bureaucratic confusion...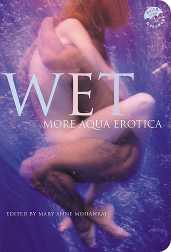 12:15. Melcher just sent me the cover for Wet -- I think it's gorgeously dramatic. Hope it doesn't scare away buyers; it's not as muted as the last one. But so pretty! (Those bits of white at the corners should be transparent; the book has rounded corners like the last one. I don't have the brain right now to remember how to make such things transparent...
12:30. Just got a call from the post office -- they messed up. They have found my old box, *and* it's fine, *and* it has a bunch of stuff in it. So we are now back to our original plan, at:
Mary Anne Mohanraj
P.O. Box 11453
Salt Lake City, UT 84147
Please ignore all this confusion. Ugh.
2:15. Two boards cut. Twelve to go. Oof. But I had to stop in and point you to this absolutely charming hack at MIT. (David, I know you don't follow links. But follow this one. You'll like it, I promise.)
Thursday, December 20, 2001
Hey, munchkins. So, a little mopey today. Got some e-mail from my professor regarding my two final academic papers. The Hawthorne one was fine -- not outstanding, but fine. I'm guessing I'll get an A- in that course; I may try to improve that early next semester if he's willing. We'll see. The depressing news is that he really didn't like my theory paper, and wants to give me a B+ in the course...(I was getting an A- until that point). He's willing to let me rewrite that one, so I'll meet with him early next semester and do so. I'm not even entirely surprised -- I didn't get a chance to meet with him about this paper before writing it, and he's one of those professors where it really helps if you have a clear idea of the type of paper he's looking for (which doesn't mean he's at all unfair or anything -- just that he's not as...loose...as some professors). Anyway -- it's okay, but frustrating. I stressed a lot about both these papers last week, and I'd hoped for a happier result to them.

Part of the problem is that I *hate* doing things over...I pack my life pretty tightly sometimes and I'm all about efficiency. Missing buses, making mistakes, etc. -- they all interfere with efficiency, and with the overall goal of having as much fun as possibly in the limited span that is life. But I *am* aware that messing up is to be expected too; I just don't have as much patience with that as I should. Ignore the grumbling from the balcony.

I'm going to try to put all thoughts of this aside until after the holidays. I currently have a very light semester planned for spring, with plenty of time for fixing things. So until then, I'm just going to enjoy the holidays. Today, I'll work for a couple of hours on Christmas stuff; then Kev and I are going to go see LotR. There will probably be some package mailing and Xmas card getting (I ran out!) on the way. I'm still itching to play The Sims, but the CD is still hidden, which is a good thing. I should also clean up a bit; tomorrow night some people are coming by for potluck dinner; that'll be nice. I need to figure out what I'm making. I have a slightly dubious-looking recipe for plum pudding; in case that doesn't work well, I should have a back-up dessert of some kind; probably trifle. Fruit and custard and sherry and cake...mmm... Still not quite sure how many people are coming, so I'll hold off on other planning until I know better.

Sheesh -- Xmas is in 5 days. How did that happen? But you know what else is even sooner? The anniversary of this journal! Yup, on the 22nd it'll be six years. SIX YEARS! I'm a little astonished, even though you would think I would expect this since it was five years last year.

Anyway, in celebration, I'm going to skim through the last year of entries and pick out my favorite to point you to. If you have some free time, please do the same, and let me know which one was your favorite. I'll post those here, along with your comments, on Saturday, and also add them to the list of favorite entries. A Xmas present from me to you, and from you to me. :-)

11:40. In honor of going to see the movie today (we're planning on a 4:20 showing), I share with you my hobbit name -- Tigerlily Hamwich of Buckleberry Fern. Ms. Tigerlily will do.

David turns out to be a Baggins. I should've known...
Saturday, December 22, 2001
Happy birthday, little journal. I would write more, but Kevin left tonight, and I find that I am too sad. Soon, I promise.
Sunday, December 23, 2001
4:00 a.m. Forgive me if this is a little incoherent. I'll have tea and shower soon, but then I have to rush off to catch a plane East, so I thought I'd best write this before I get caught up in the getting-ready-to-go whiz. I'm not quite as sad this morning, though plenty tired and somewhat disoriented. Sleeping four hours will do that to you.

Really, I've had a wonderful Christmas so far. It was marvellous having Kevin around, even if we did slip a little bit into the same sort of patterns from when we were living together in Philly. Good patterns; happy patterns. ("Look, what a comfortable old chair. What'll it hurt if I just sit down in it for a few minutes? Ahhh....") Patterns that had to break sort of jarringly when it was time for him to go. Oh well -- if given a choice between joy+sorrow or simple contentment, I'll generally go with the former. Just the kind of person I am.

It was just so lovely spending time with him. We went to see LotR on Thursday, for example. Took the train down, found our showing was sold out, had some terribly greasy yet oddly comforting dinner at a diner next door, caught the next showing. The theatre was full of Utah teeny-boppers; blonde hair, too much make-up, lots of dumb comments between friends sitting rows apart. During the previews I got more and more irritated with them, sure that a) they weren't going to appreciate *my* movie, and b) they were going to wreck my viewing experience.

Instead, they fell completely silent when the movie started. Oh, there was one loud "Yeah!!!" when a bad guy's head got lopped off, but somehow it seemed in the right spirit, and the rest of the theatre (self included) chuckled. Everyone listened carefully to the dialogue. Everyone got caught up in the world of Middle-Earth. The movie had flaws, which I could enumerate if I really wanted to -- but I don't; it caught what I thought was the most important part, the splendid feel of the books. The sense of grandeur and terror and this small hobbit walking alone into the heart of darkness. I was totally caught up in it -- I almost squeezed Kevin's hand completley off at the scary bits. I cried at the bridge in the Mines of Moria -- even though I knew it was coming. When the ending approached, and the parting of the fellowship, I didn't want the movie to end, even though I'd been sitting for three hours and really needed to get up and stretch. And when the end credits started rolling, and we realized it would be a whole year until we could see what happened next, the blonde teeny-bopper in front of me moaned out loud -- "Oh, no..."

I guess she was allowed to see my movie after all.

Bags are packed now, though the last set of books I made for my relatives is still pressing. (You need to press books after each stage of glueing so that the wet paper and boards don't warp.) Most of yesterday was devoted to that -- I finished the story, "The Fallen Star" yesterday morning, then spent a while laying it out in Quark (not too painful, but finicky and time-consuming), then managed to print it double-sided, and the pages came out so beautiful and book-like that I was just delighted. When I had nine complete sets, I wrapped them in coppery endpapers and sewed them together using dark green, purple, and wine embroidery thread. Three sets with each color. Then I bound them into the casings, which I'd made using those same colors for the covers and spine cloths. I set them to pressing around 4:30 -- I'd been working on them since I got up at 9. Then I set to cleaning and laundry and packing, along with Kev.

There are still a fair number of dishes left over; lots of people came over Friday night for Christmassy hanging out. My trifle came out fabulously -- mango and peach and pear, with angel food cake and English custard and a little sherry, with fresh whipped cream over the top and pomengrante seeds for decoration. I also made a very easy chocolate plum pudding (recipe over at Epicurious) which is really a cross between a plum pudding and brownies, since it's baked instead of steamed. But it has the right rich texture, and was quite yummy. I'll use chopped fruit next time instead, I think.

People brought lots of tasty food too -- poor Carol was sick, but dropped off delectable food beforehand, which was just too sweet of her. There was socializing and good conversation and I got to show Jeff the galleys of Wet. One of the funniest bits of the evening was when Julie (also in the department) took a look at Jeff's story in galleys and realized that the story was about her sister -- Jeff and her sister had dated for three years. She said reading it felt like she'd walked in on them in bed. :-)

Really pleasant meal. A fair bit of work, with cleaning and cooking and all, but worth it. It just doesn't seem like Christmas unless you exhaust yourself at least once preparing for a party.

Eventually, yesterday, I had cleaned and packed enough, and we watched Splendor. Charming movie, bad choice. Got very upset afterwards, which I probably could've predicted if I'd thought about it for two seconds in advance. Ah well. Poor Kev -- he knows that there's just nothing he can do about it when I get upset over us, but he so badly wants to fix things and make me happy again. Sometimes there's just nothing you can do.

I called Jed, and then Karina called, and I talked to them while I finished the books -- slitting the pages open, signing and numbering the last sheet. A limited edition run of 9. :-) I wrapped them in Xmas paper and set them to pressing again. I was too groggy to think of taking photos for you -- sorry; perhaps I'll get some after they're opened. They really came out rather lovely, and I'm trying to think of the flaws as acceptable artistic variations. "These imperfections in the material are part of the natural process of handmade work..."

And now it's 4:30 -- time for tea and the last dishes and showering and dressing and packing the books and computer and getting into a cab. Maybe I'll get a good sunrise at the airport or on the plane. If I don't speak to you again before Christmas, have a very Merry one, please. Mine has been lovely, in part due to you all (and thank you for the presents to Tim in Hawaii and Jim and Chris!). Have a happy holiday, my dears. Cherish the ones you love.
Thursday, December 27, 2001

The last several days are rather a blur; much talking, much eating, not enough sleep. I slept until noon yesterday, finally catching up a bit, and another eight hours or more last night. I'm honestly not so sure what I've done between then and now...I spent much of today playing The Sims, so my brain's a bit foggy. I've set it aside now, and have been reading The Two Towers again. I meant to pack it, but forgot, which is just as well since Sharmi (youngest sister) had a copy. Much fun.

I took a lot of photos of Sharmi this Christmas -- tons of photos overall, in fact, over 150 of my family. Of course, I didn't take most of them -- I handed the digital camera to my young cousins and told them to go crazy. It did take me a couple of hours to delete all the bad ones and edit the rest into reasonable form, but that's okay -- I ended up with far more good photos than I would've if it'd just been me taking photos...and if it'd been a regular camera, well, then I probably wouldn't have bothered taking pictures at all.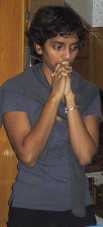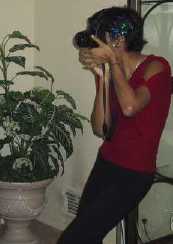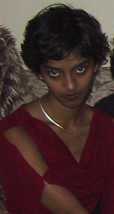 That last one is her 'vamp' pose. We got pretty silly with the photos after a while...

The kids loved their books. Christmas evening I sat in the living room and read it to some of them. Very pleasant. :-) I can't imagine what it'd be like not knowing your cousins; I'm very fond of mine. Because I'm the oldest, and so much older than the rest of them (at least five years), I haven't really had any conflict with them. They also hardly ever see me. So I get to be the beloved older cousin who they willingly fetch and carry for. They're so sweet. :-) And getting really interesting as they get older and develop their own personalities; you can watch them forming, year by year. It's fascinating.

I think I'm going to go back to Tolkien; it's been a decade or so since I read these, and I didn't realize how much I'd forgotten. I couldn't remember what happened in the middle book, aside from the Ents. But there's lots -- Theoden and Isengard and the Palantir, and then with Frodo, Cirith Ungol and Shelob and a fair bit more, I'm sure. And of course, it all takes a while, given the fancy way these people talk. :-) Plus all the pretty descriptions that Tolkien likes lingering over. Not to mention the songs. I'm really curious to see how they dramatize this second book -- it's driving me a little nuts that it's done, and we still have to wait 'til next December. Argh....
Saturday, December 29, 2001
I'm totally guessing at the day and date there. It could easily be Friday, or the 28th, or both. Life is surreal when you let it be eaten up by The Sims. And my little Sims now need 10 friends for their family, which is just insane. You have to keep creating new Sims just so that they have people to be friends with. And you can't leave those new Sims in abject poverty, not if you have any heart at all. Evil game. Evil evil evil.

I did get outside for a few hours yesterday; Sharmi took me driving! Or, more specifically, I took Sharmi driving! (I.e., I actually drove the car.) It's the first I've driven since I got my license last June; I didn't do too bad. I'm still chickenshit -- I really rather resent other cars on the road. I'm fine and happy as long as it's just me and the car and the road -- I think I could drive for hours with real pleasure then. Even pedestrians and bicyclists and dogs and squirrels -- no problem. (Lots of squirrels crossed our path yesterday, Karina, but I didn't hit any of them. :-) I find that I have a great tendency to sing while I'm driving -- consider yourself warned, should you ever get into a car with me. As we drove I was composing a little ditty on the fly: "Me, Queen of the Road" -- I thought it was rather catchy, though I'm not sure my sister (and young cousin, also in the car) agreed. But pfui! to them, is what I say. The only problem with the song is how often it was interrupted by other cars, reminding me that I was not the sole queen of the road. Very sad.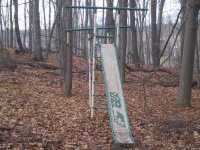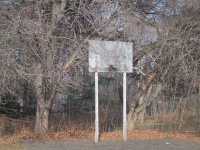 We started at my house -- really, we started with young cousin running around taking pictures of the house and surroundings. She's only twelve, and has fallen in love with my digital camera. She took over a hundred photos yesterday on our drive; I have cruelly kept only eight. She'll thank me for it later. Here are a few items from our backyard -- the slide I assembled myself, when I was about twelve. My dad helped with pouring the concrete for the legs to rest in. It's gone wildly askew over the years, and both it and the swing set (that I also assembled) should really be pulled down. The swings are so tilted at this point that if you try to swing, you bang right into the supporting posts. But what are the odds of anyone actually bothering to take them down? Very slim, my dears. So up they'll remain, a hazard to visiting youngsters. There's a lot of little home repair stuff that could be done to this house; the paving stones on one side are completely overgrown -- they're rather decorative, under those bushes (forsythia? mountain laurel? I can't remember), but not useful. If I lived here, I would cut them back mercilessly. At least the basketball hoop is still functional, along with its little rectangle of blacktop. Earlier in the year, the blacktop would have been covered with rotting crab apples, fallen from the trees behind the hoop. But now they're all gone, and we could play basketball for hours -- if we only had a functional ball...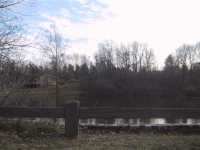 When she was done taking house pictures, we piled into the car and drove. First around the block a couple of times, just to get me used to driving again. I took the turns a bit wide at first, but soon adjusted. I remained a little jerky on my stops throughout -- practice, practice. We swung by the pond -- I don't know if it has a name; we just called it the pond. When I was growing up, you couldn't drive to it -- you tromped through the woods until you found it. The boys would go skinny-dipping, or so they claimed. I don't remember ever seeing them do it. I had a crush on one of them, but ended up fooling around with his brother instead. Oh well... Lots of pleasant memories at that pond -- we'd sit on the low fence and talk for hours. I wish I could remember what we talked about...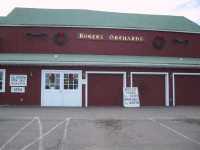 Before long, we were heading up the long drive, past the reservoir. This is a pretty big reservoir, that supplies a fair bit of the surrounding area. You used to be able to stop and park there, but they've closed those areas off, so we end up just zipping by. We were on our way to Rogers Orchards (you'd think there should be an apostrophe in there, but there isn't. I don't think). I used to beg my dad to take me there when I was a kid. They had lots of fresh apples and other fruits and vegetables -- but the real draw was the maple candy. Oh, yum. I love, I adore, maple candy. I have a weakness for any sugar candy -- rock candy, cotton candy, candy corn. But maple sugar candy is the best -- it just dissolves on the tongue, a burst of New England goodness. Sometimes, when I got older, we would walk up there. It's about a forty-five minutes walk, uphill all the way, so I felt justified in treating myself to an apple cider doughnut and a cup of hot apple cider for the walk back.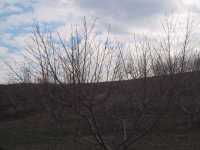 Gods, New England is beautiful to me. Even in winter, this most barren time, without even snow on the ground to soften it, I love the abundance of deciduous trees, the hidden streams of water, the clear sky with bright white clouds... I'm still not adjusted to the landscape in Salt Lake -- it has its own beauty, but I guess you just gravitate to what you grew up with. When I imagine winning the lottery and building a house somewhere, it's always in the hills -- not mountains, just gentle hills. With a thick forest full of different kinds of trees (not just evergreens), and ponds and lakes and streams, with wildflowers growing in profusion. Queen Anne's lace was my favorite, but violets too, and even dandelions. We'd lie on our backs in the yard, near the basketball court, and make wishes (for big houses, in the hills?) and blow the dandelions into a thousand fluttering white stars. Long yellow branches heavy with forsythia bending to the ground, sticky little white and pink mountain laurel blossoms thick on the bushes. Purple and white lilacs blooming outside my bedroom window, and pink dogwood trees spreading gloriously. Climbing wild roses wreathed around a low redwood fence. That's beauty, that is.
But it's winter now, so I can't show you pictures of that. Instead, you can gaze upon us. :-)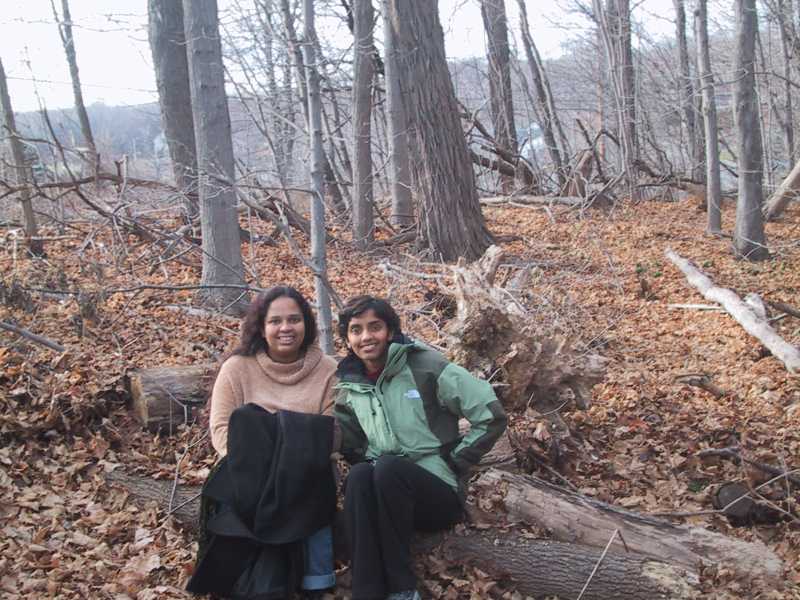 ---
Previous month.
HOME.